One of the most common questions new writers ask focuses on the 'best' way to write. Whether this is a question of routines or order or projects, or even the act of actually getting words on the page.
If you've been reading a while, you'll know I like to explore different 'systems' for writing, and believe it's worth returning to techniques that perhaps didn't work before, because time, and each individual project may require a different writing system.
In case you missed it, I've tried the #WriteChainChallenge, NaNoWriMo, A-Tweaked-NaNoWriMo and Camp-NaNo. I've learned the I need community and word-sprints to make large-scale progress.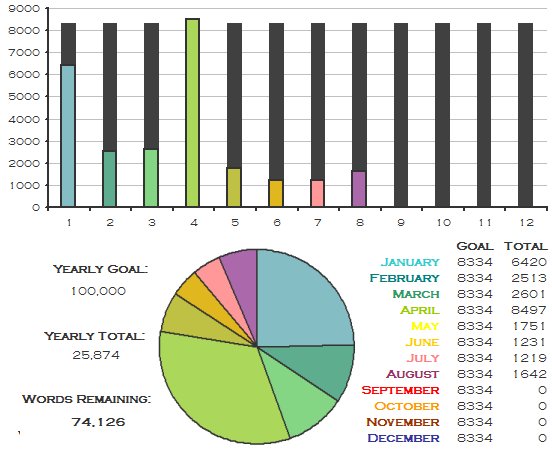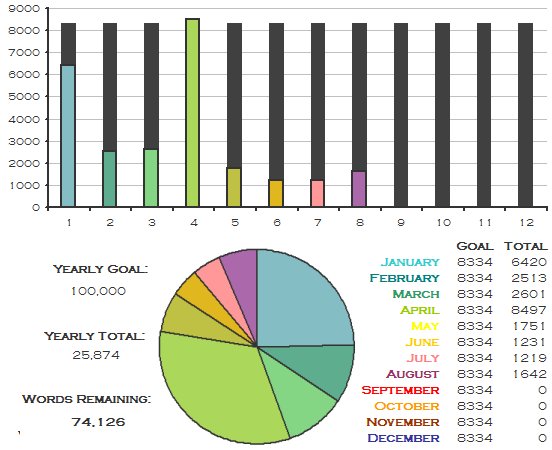 [In order to use accurate graphics and examples, these details were compiled on August 5th.]
2017 So Far
My goal for 2017 is to write 100,000 new words of fiction. Dividing those 100,000 words by 12 months gives me a monthly aim of 8,334.
That's an average of 269 words a day.
By August 5th, we were 217 days into the year. I should have completed 58,373 words. Instead, I'd only met that daily aim on 24 days, not even meeting half of that wordcount aim.
In June and July I didnt get a single day reaching 269 words.
But, with my course completed, I have proudly written at least 269 words from August 1st to August 5th, so I might still hit my yearly goal.
If I consider the likelihood of completing NaNoWriMo again this year, hitting 50,000 words in November, I only need 24,126 words across August, September, October and December. That's just over 6,000 words a month.
And in reality, I still wrote 25,800 words across 7 months where I "wasn't really writing much." That's nothing to ignore, by itself.
[In the week since those statistics were taken, I've written more: In fact, in the first 10 days of August, I wrote 3,448 new words which is 1,000 words over June and July's wordcounts COMBINED.]
NaNoWriMo 2017
I've written at length about my history with National Novel Writing Month:
– It got me writing novels at University.
– I can't bear the idea of failing it.
– It has been the only thing to 'salvage' a bad year: bringing a positive focus and sense of achievement.
But in essence, I now follow 3 rules:
* Plan the novel in advance.
* Allow myself to fall behind in cleaning/other projects in November
* Use the community for motivation and support.
So, it's August and I have begun planning for my NaNoWriMo 2017 project. So far, I have a main character, some setting and a set of quotes which inspired some of the characterisation. Now I just need to find the plot and then I can begin planning some scenes.
How are your goals coming along this Summer?
When do you begin preparing for NaNo?