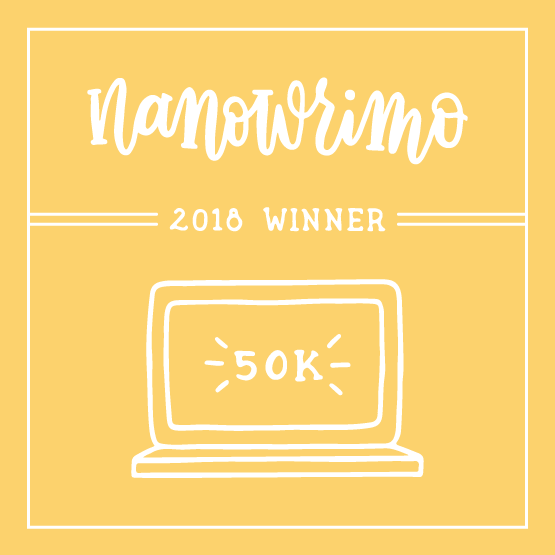 "We begin in the heart of the darkness. Winter is full upon the Earth; snow veils the landscape, thin trees are brittle with ice, and stars shatter the black mirror of the sky." 
– Michelle Morgan
November was looonnnggg month. I completed #NaNoWriMo, writing 50,000 words of a new novel in 29 days. This was my 9th year completing it, and I definitely struggled more this year. Since I normally write 90k-150k annually, and this year I barely made 10k aside from November, I knew it was going to be a careful re-introduction.
November ended with some fun stomach bug things, but I'm still plodding along!
Reflections on the Journey
i. Read 12 books: 11/12 – I'm catching up now: I read Rock Solid Writing and Pulp Speed for Professional Writers before #NaNo, and am 33% through the first young adult Divergent series.
ii. Track my wordcount and aim for 100,000 words: 061,511 words – I wrote 50,044 words for NaNoWriMo, and have a short story deadline in December… I'm not going to force myself towards 100,000 words now. I'm happy with 60,000 for this year. Any more will be excellent.
iii. Wellness Weekly: I attended Write-Ins and need to get back to exercise in December.
Smoke and Ember
The cats are fluffy as ever: their winter coats darker now, and they're tending to spend more time with us indoors as the weather turns cold and wet.

Jumping the Wall…
I attended 4 write-ins with other people completing National Novel Writing Month, which is always nice <3
Finished #NaNoWriMo with a story about an underground clan and the prophecy of a fox.
I began reading a fiction book during November: unheard of for me!
I spent a day shopping with my friend of over the Black Friday weekend and picked up a lovely warm cardigan and had a pizza buffet for lunch.
The Path Ahead…
That short story is now due in December! Phew…
Exercise paused for a shoulder injury but is getting back into my routine.
In December, we're having a few family events, a date day together, and I'll be putting the final touches on my New Years Resolution / Plan Your 2019 Programme.
Did you write this month? Are you preparing for some specific goals and achievements in 2019?