It's 2023.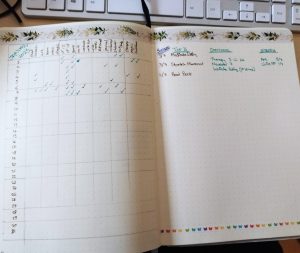 I always reach this point and want to laugh at how I thought I was on my way "up" after a few hard years of falling down, but this year I can say I did at least climb up and out of some of the holes I'd fall into.
2022 was my lowest year by FAR from a writing standpoint. I don't think I've written so little since I began my writing career in 2009. Last year I wrote 35,213 words of fiction. 
However – one of those projects will be published in 2023, which definitely helped take the sting out of the low number.
~
Reflecting on 2022:
i. Read 12 books: – 6/12. I read 6 books last year – and 2 of them were short. Having said that, I only read 5 in 2021, so it's an improvement.
I finished 2 of the 3 books I was reading last January, and I am currently still working my way through Women Who Run With the Wolves by Dr Clarissa Pinkola Estés. I also made it 39% through The Way of Integrity by Martha Beck, and 45% through Existential Kink by Carolyn Elliott, PhD. So I did read more than just those 6 books – I just didn't finish them in 2022.
ii. Edit The Felled Gods: No. I wrote a bit in Jan-March, then didn't make any substantial changes to this project.
iii. Track my wordcount: – Ish. I kept this habit going, but I didn't exactly write much, and I definitely didn't keep track of all of my words written across nonfiction projects like newsletters/blog posts etc.
iv. Wellbeing Comes First: – Kind of. I kept up (mostly) with my intermittent fasting, I've been in therapy most of the year, and I moved out of my old home to help me reset my anxiety around the environmental cues I was getting caught up in. I had time off work for my mental health, and I let myself sit out of NaNoWriMo again.
v. Weekly Connection: – Yes. This wasn't as consistent in 2022, but I began dating my best friend, visited her in America and met her friends, stayed in touch with the friends I reconnected to in 2021, and made some new friends in the Twitch community.
~
The Year's TA-DA List – I: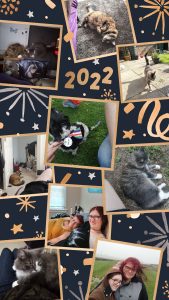 – Began dating my first love again: 17 years after we first dated as teenagers. She came to England twice and I went to America twice.
– Through those trips, I visited the Natural History Museum, The Hawk Conservancy Trust, Cedar Cove Feline Conservation and Education Center, Kansas City Zoo, The Nelson-Atkins Museum of Art, Kansas City Renaissance Festival, Paws for Thought Cat Café, 2 aquariums, Brighton R-Bar, and The Long Man of Wilmington.
– I completed my supervisor training and grew in my job at the National Health Service.
– I attended People's Pride (June) and Pride (August) marches
– Left my marital home and moved in with a friend.
– Had regular therapy (2 types).
– Another dose of the COVID vaccine.
– Co-hosted 2 panels for the World Wide Writeathon 2022.
– Took a Crushing Codependency course.
– Deepened connections with my closest friends <3
~
Publications This Year:
I wrote 13 Medium articles in 2022.
Although I did not have any fiction published in 2022, there is an anthology due to be published in 2023 that I've got a short story in — and I'm so excited for that to be announced.
~
I Bid You, Welcome, 2023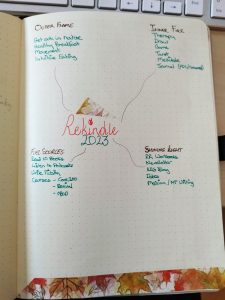 My word for 2023 is "Rekindle" and focuses specifically on that inner spark, igniting my inner fire since so many things changed in 2022. And doing so from the roots of who I am, instead of what the world may want to dictate for me.
In 2021 I had 8 "categories" of goal.
In 2022 I had 5.
This year, I've tried to stick to 4 'themes'. However, January is a month for me to track some of the habits I began in 2022 – so I have a longer list for this month specifically – covering both daily tasks and 'weekly' things to check off.
I'm not listing everything below, focused instead on specific SMART goals, but the categories are essentially Inner Work, my Outer World, Fuelling my Fire, and Making Connections.
~
Key Intentions for 2023:
i. Read 10 books (& Take Notes): – I've cut this down to 10 books. I'm already mid-way through a few, and I've focused on a weekly goal to read – so fingers crossed this is easier to meet in 2023. I want to read 10 books, and write some notes on the nonfiction ones so I can implement learnings. I've grabbed "The Daily Stoic" to give me a simple option to check this one off.
ii. Write Weekly (& Track Wordcount): Whether its fiction or nonfiction, this is my year to restart those habits I had for nearly a decade again. A sub-goal of the previous one is that I will continue to track any fiction I write. I don't think I will ever stop this habit. i can't explain why it feels so foundational, but it just does.
iii. Rekindle my Spirit: I've added a daily "doodle" to get more art in my life, a weekly oracle card pull, and getting outside in nature more. I also feel reading books and writing nonfiction specifically helps refuel my inner fire. 
iv. Mental and Physical Health: This year I'll be moving home, and getting back to a baseline of being 'stable' on a health front. This means getting regular medical appointments in place, moving my body, journaling, daily meditation again, gaming and being creative regularly.
v. Connect and Shine: I want to improve this one in 2023 – monthly Medium posts, continuing my newsletter, and deep, honest social connections with my friends and family. I want to keep producing nonfiction that helps me connect with others and teach the lessons I'm here to share.
~
How are you welcoming in this year? How has your first week gone?