"The summer air is hot and still, the afternoon hazy; crickets call relentlessly from among the brown grasses, and ears of corn are the same heavy, burnished gold as the late-day sun. Hawks circle in the blue-white sky overhead, and seedpods ripen where flowers bloomed just a month before. But shadows begin to lengthen along the garden wall, and the nights come, just a bit cooler, perhaps; a settling begins in the Earth, a gathering, a slow, quiet turning toward the coming darkness."
– Michele Morgan, Simple Wicca.
Where has 2021 gone?
The last few months have been… A journey. One hell of a journey.  
It's October, and I am exhausted. I have barely written any fiction, hardly read any books, and this year has focused more on family health issues. This year is one of "ebb" instead of flow, and I am trying to be okay with that.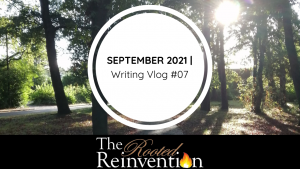 Having said this, I did record Writing Vlogs for a few of the months, which you can find here:
~
Writing Life
Writing has settled down behind me for the main part of this year, a constant in my monthly review, and snippets of story make themselves known to my mind, yet the words being written are definitely lacking.
Still, in October I'll be co-hosting a Live Chat for the World Wide Writeathon on Saturday 23rd October and am spending October exploring my reading and writing goals for the rest of the year. 
~
Reflections on the Journey
i. Read 12 books: – 3/12. I'm 6 months behind and have 3 books I am actively, currently reading. You can read my reviews for the 3 I've read here.
ii. Edit The Felled Gods: I have been working on this, very sporadically; often just thinking through things and not writing any new words.
iii. Track my wordcount: I've continued to track – I just haven't written much to be tracked. This is my #MilWordy challenge, which I have carried over into September 2021 onwards, and plan to address and explore my experiences of soon.
iv. Focus on Health: I threw myself into journalling this year, and have continued to explore intermittent and intuitive eating. 
v. Connect with my Community: Again, this was going well until August, however, things then fell quiet. Having said this, there are now 56 podcast episodes in Season One of the Rooted Reinvention Podcast, and I will be co-hosting a chat stream for the World Wide Writeathon on Saturday 23rd October at 1pm EDT / 5pm UTC (GMT).
~
Smoke and Ember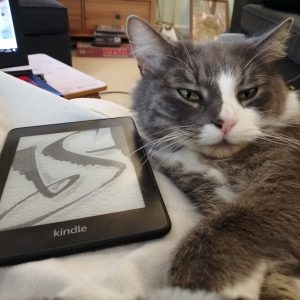 The cats are both well, having just turned *seven*. Ember has trodden on my laptop spacebar so many times it doesn't always put a space in between my words anymore, which is sub-optimal, but otherwise, they are cuddly and cute as always and love to sit on paper and notebooks.
~
This Website Space
I moved over from the wordpress blog to my own site, after years of fighting with my domain host to get free again. Therefore, there are some aesthetic changes and any "short links" may still link back to the old site. I'm working on this to ensure everything is as smooth as it can be, though.
~
What are your plans for October (and how is it going so far?)?